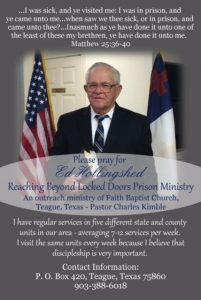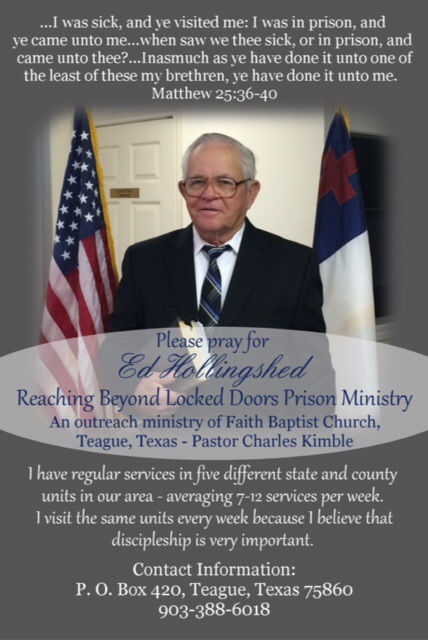 I was saved in September of 1968, at Maranatha Baptist Church, Denton, Texas. Two weeks later, I surrendered to preach. I have been an evangelist and have had jail, radio and nursing home ministries ever since.
I began Reaching Beyond Locked Doors Prison Ministry in the year 2000 as an outreach ministry of Faith Baptist Church. We still have services at the same unit that we began in. Currently, we have weekly services in 5 different state and county units and hold approximately 7-10 services weekly.
The Lord has blessed me with a wonderful family and Church family who have been very supportive of my ministry. We ask for your prayers as we continue to try to impact the lives of the inmates that we preach to.
Providing Gospel literature and Bibles is an essential part of our ministry at all of the prisons. After reading the literature, we encourage the inmates to pass it along to others in their unit. We hand out thousands of KJV Bibles yearly and Bibles are one of our greatest needs at this time.
Our ministry does not end after these inmates become Christians. We consider discipleship a very important aspect of our ministry.
Ed Hollingshed